This was his last lunch ever -Becoming a Thai Monk pt. 1-3
THIS IS AN AD.
Hopefully, it's something
useful to you.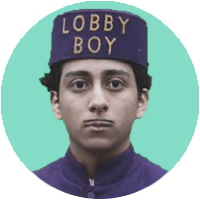 reverse engineers
This is the first of three parts in which I follow Phe Dong, who has decided to become a monk.
The tattoos on his arm are, soon to be, stories from his past life.
Because he has made a decision which will change is life forever.
After this day, He will never eat lunch again in his entire life.
Monks in Thailand live by 227 rules. 24 of these rules involve food. And one of these rules states that a Monk can't consume solid foods between noon and the following dawn.
In other words: Monks are only allowed to eat between sunrise to about 11'o'clock in the morning.
And here we are, at FARM HUG restaurant in Sakon Nakhon To share Dong's last meal ever, accompanied by his proud mom.
Our lunch consisted of:
Jim-Jum – A clay hot pot with spicy Thai soup in which you can add vegetables, herbs, and noodles. You can also use the broth to cook your meat.
Furthermore, we had a hot plate over charcoal on which we could grill our own meat. In this case mostly beef, as Sakon Nakhon is famous for its beef. And I have to say: IT'S GOOD!
The more I think about it, the more I realize how special it is to share Dong's last lunch ever. And in the case of PE DONG, sharing is literally.
Every time -as humble as he is-, before he took a piece of meat for himself, he first gave a piece to me.
Dong told me he enjoys cooking and isn't allowed to cook anymore the rest of his life. As someone who loves cooking myself
it's hard for me to imagine that someone would make such a great sacrifice.
At the same time, it's very inspiring to see someone who is willing to let go of his past, good and bad, to step into a new reality.
A life with inner peace.
A new story.
Music:
Mae Kha Som Tam – Onuma Singsiri
LIVE FREE: SPEND YOUR TIME ON WHAT YOU VALUE MOSTFigure out what you want to spend your precious time on without acting like a total D about itThe FOCCER behind REVERSE. A self-proclaimed Jack of all Trades wants to make a living by working on all kinds of ideas. How...